Stumble Guy introduces another exciting feature of Prize Boxes that is way more rewarding than Spins, Wheels, or Bundle collections. At present, SpongeBob SquarePants Prize Boxes are available during this update.
Here is a guide on How to get Prize Box in Stumble Guys along with a detailed tier list of its varieties and tricks to get them fast. As of now, Prize Boxes are the most valuable items as they reveal Stumble Guys Skins easily.
Stumble Guys Prize Box
Prize Boxes are a spectacular in-game content-rewarding feature that has been newly introduced. Below are things that can be claimed inside of this box.
Gems

Shards

Stumble Guys Tokens

Free Skins

Emoticons and Animations

Tickets

Event Currency
Prize Boxes are classified into Regular Prize Boxes which are sublevel into six tiers of effective rewarding. Stumble Boxes contain Big, Mega, and Ultra boxes while Seasonal Prize Boxes occur occasionally with new season updates.
Guide: stumble guys skins
How to get Prize Boxes in Stumble Guys
There are various ways that can be utilized to unlock Prize Boxes. This includes a majority way as free of cost but few techniques can be completed via paid transactions.
Below are ways by which Prize Boxes are earned and later on unlocked to get precious objects inside of them.
5. Stumble Guys Pass
Stumble Guys Pass 2024 has plenty of tier lists that are now occupied by Stumble Boxes. Each higher level contains rare items. Players should note that Stumble Pass can only be purchased through mini-transaction which requires real money.
4. Prize Boxes through Events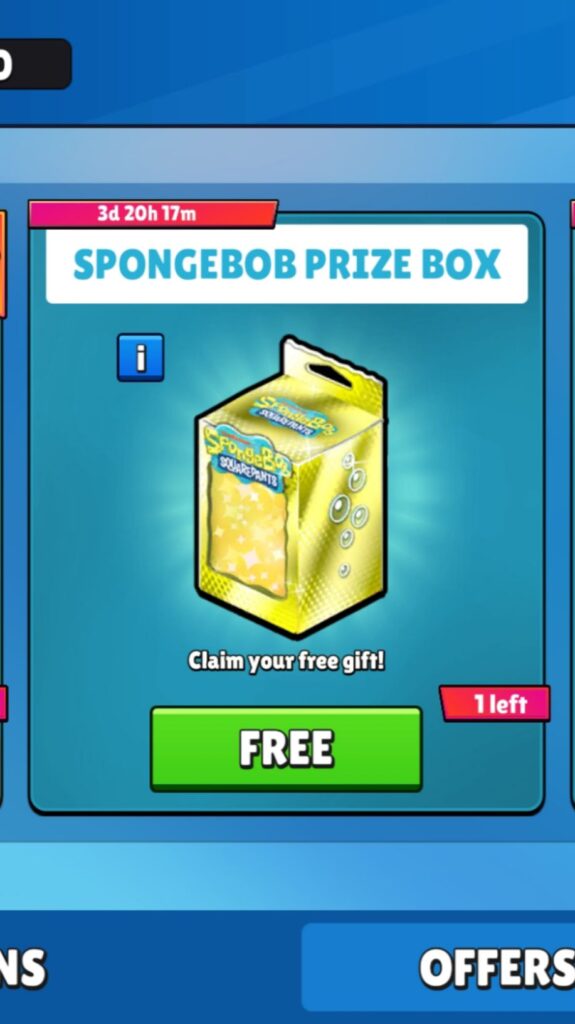 Stumble Guys New Events cover a major part of the game. Upon each new theme-based update, plenty of events march that reward Prize Boxes as well from now onwards.
3. Tournaments
Tournaments are the biggest competitive rounds that Stumblers focus on to achieve the highest peak of gameplay and set new personal records. Some tournaments require gems as entry fees and thus can be used to claim Boxes.
2. Shop
Stumble Guys Store avails free Prize Box on a daily basis while more quantities can be unlocked via watching rewardable ad units. Grab this opportunity to max out and unlock each skin of the game.
1. Mission
Stumble Guys Mission is another way to get them but requires highly proficient gaming. From Daily Missions to Weekly or Season Missions, difficulty keeps increasing thus no chance for newbies to take chances in this case.