Stumble Guys 0.54 Update is coming very soon. In this new update, two brand new maps are introduced. Ice Caramba is one of the finest maps and a better competitive version of Ice Heights. Ice maps are generally more slippery and hard to win, so we came up with a guide as well as tips & tricks on Ice Caramba so you always be the champion.
If you have missed it, the Stumble Guys Crabs Landing map is perfect to showcase your talent in order to gain exclusive perks and unlock special & mythic skins. If you're lucky, legendary skins would be on your way. That's why it's essential to learn ways to tackle common traps using our guide.
0.54 Stumble Guys
Stumble Guys Ice Caramba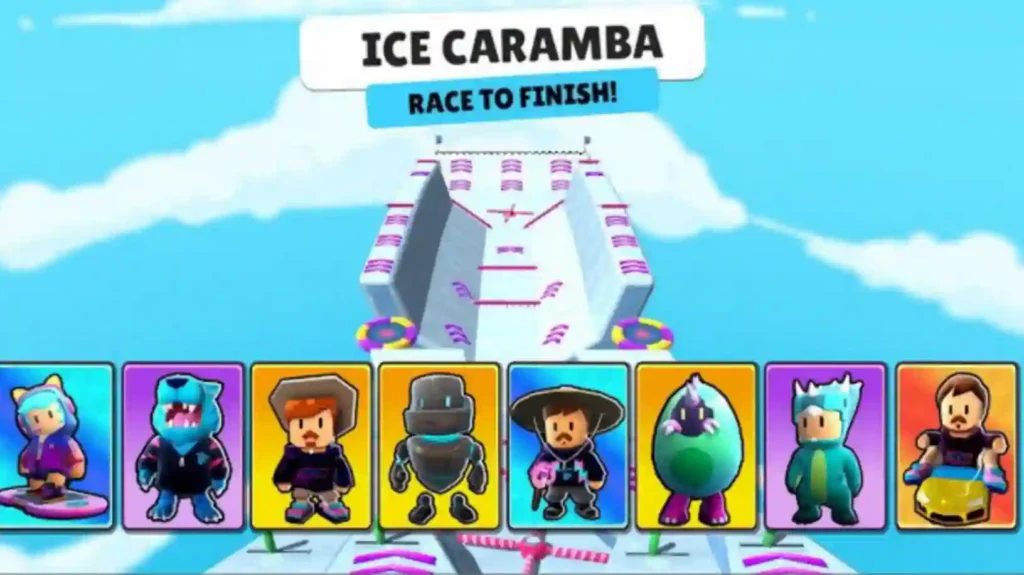 Players playing Stumble Guys for a decent time period would know Ice Caramba & Icy Heights share most of the map. Players need to climb higher to reach on top of the blocks. To make it worse, random snowballs are thrown from the higher side in a random manner.
Avoiding them is not technically too hard but requires some practice to match timing with actions. Later, a large sliding part is introduced which can be crossed with small runs but the fastest possible way is to direct straight avoiding the dash.
Until this part, both maps are exactly the same. Now Ice Caramba takes a harder turn and Upwards arrows are situated speeding players. Players should have optimum speed otherwise they fall into the hole and spawn again and the loop continues until the game is over.
How to play Ice Caramba in Stumble Guys
Ice Caramba is a challenging map that requires strict dedication and practice to master in less time. We also have top tips picked which will be helping you to win on this map but for now, let's understand how to play & win in Ice Caramba
Open the Stumble Guys.com game on Android/ iOS

Click on Right bottom button on the screen to start round

Start the match, Ice Caramba map might start

Or Play Stumble Guys Events of specific maps

Understand the map properly and set your feet wisely

Use our tips & tricks in order to win in most cases

Practice will make you find dodge each and every obstacle easily
How to Win in Ice Caramba Map in Stumble Guys
Now you know how to start and enjoy playing maps. Now is the time to learn some tactics and movements allowing the user to beat the rest of the stumblers and win Free Mythic Skins before getting eliminated or time runs out. Below are instructions that correctly demonstrate the skills required to win in Ice Caramba
In the start, stay close to the wall to avoid snowballs

Be careful in the corner, this is where you may get eliminated

Now heat towards the sliding part, jump, and double tap to start sliding on the ground

Try to maintain a straight and steady path

About rotating traps & move with high speed

At last, the large jump is required to pass the winning line

Follow our tips & tactics to increase your winning chances