Stumble Guys MrBeast Update has been rolled out and now is time for new skins and events Beast Challenge. Players can experience all-new levels crafted by MrBeast himself. Now is the time for players to focus on new events which have a high possibility to provide Free Skins as well as Gems. Here is a guide on Stumble Guys Beast Challenge to win each round to reach the ultimate rewards.
Best: Free Stumble Guys Skin
Stumble Guys Beast Challenge
Beast Challenge is a live event while Legendary Block Dash & Splodin Sharks is a tournament lasting for a longer duration than an event. Users get a chance to try out a new map of Stumble Guys MrBeast Warehouse which is fantastic among the rest of the maps. Also considered is that this map is made by MrBeast through his own imagination to entertain users.
Beast Challenge Rewards
Round 1
Round 2
Stars: 25

Trophy: 10

XP: 500
Round 3
Stars: 30

Trophy: 20

XP: 1500
How to win Beast Challenge in Stumble Guys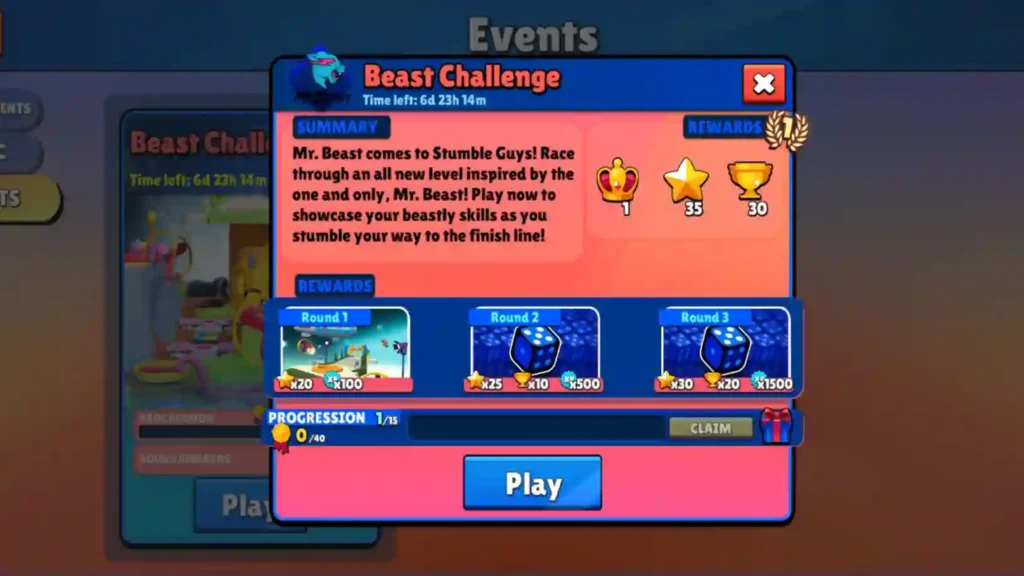 Similar to any other event, Beast Challenge consists of three rounds made with increasing price lists and difficulty. Winning is the ultimate outcome that leads to the epic skin for free and lots of tokens and gems. Here is a step-by-step guide on how to play and win Beast Challenge to get rewards before the event cools down.
It is easy for players to pass Round 1 and qualify for Round 2 leading Stumble Guys Skin to Round 2, avoiding elimination is harder while surviving is no game of luck. Practicing and the art of playing leads to the final round which is round 3. Getting rank 1 in the final map is hard and requires lots of hard work and little good luck.