The Clash-a-Rama season of Clash Royale has just begun and players are excited about the new season. With the new season comes exciting challenges. Now is the time for the Raging Giant Challenge to take place rewarding multiple season tokens based on the tier list. Remember, 3 losses and you are out of this tournament challenge.
Before this challenge began, the Raging Giant Deck Event took place where giants had a super ability that could rage itself all time. It affected gameplay in such a way that there was a need for card combinations that could beat sudden changes made to the game.
Raging Giant Challenge Deck
Similar to the event but has some restrictions and simple rules. Players can play as many battles as they wish but need to avoid a total of three losses otherwise they are eliminated as per the traditional challenge rule of Clash Royale.
Hence there is a need for the Best Raging Giant Challenge Deck that will be helping you throughout your journey to remain undefeatable during this period.
Giant

Valkyrie

Musketeer

Rage Barbarian

Balloons

Metal Knight

Log

Archer Queen
Take a look at the list of card fusion that we presented that also represents strong bonding between air and ground units to form a reliable army. If everything goes according to plan, the win lies on your side and gems.
How to play & win Raging Giant Challenge in Clash Royale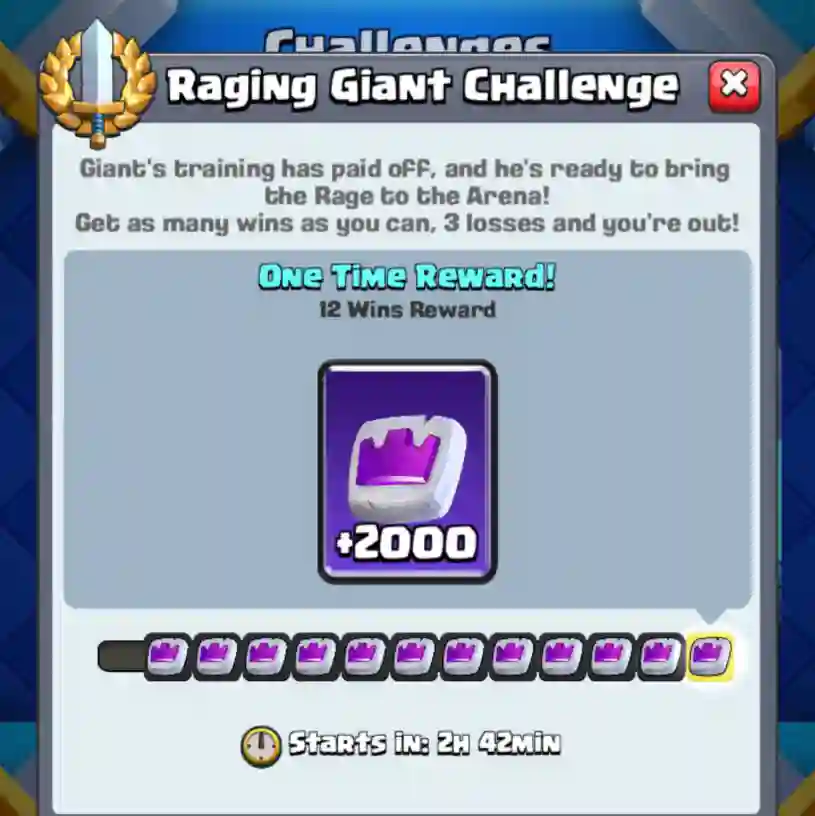 If you don't know how to play this new challenge, follow the instructions in the order and now you too can enjoy these fabulous battles.
Open/ Update Clash Royale to latest get the latest season

Choose the event & challenge section from the bottom listed buttons

The raging Giant Challenge is now live. Click on it

Create a deck or copy our provided deck

Play battles using tips, tricks & tactics

Elimination of overall 3 losses in the challenge




Claim season tokens 10-12 tier rewards
Best Deck for Ranging Giant Challenge
We already know, even newbies can create their decks but what's different from the formation of a professional deck that makes you win in most cases? The reason is a strategically balanced tier list to tackle certain scenarios far better than ordinary cards.
Giant

Inferno Dragon

Fisherman

Sparky

Mighty Miner

Tornado

Arrows

PEKKA
Please be sure to have thoughts about the strategy that you will be entering into battle. Experience and skills are developed by prolonged playing of Clash Royale making your trouble and anxiety go away.
Clash Royale Raging Giant Challenge Decks
Inferno

Tower

Electro Wizard

Skeletons

Earthquake

Bats

Electro Dragon

Giant
Before this challenge took place, Timeless Towers Challenge was live which was unique as crown towers could heal them over time, and time constraints were partially relaxed. But this time, Raging Giant Challenge Best Decks would be available to take care of the rest of the minor problems that players face.
Upcoming Clash Royale Events & Challenge in August
TimelessTowers Event ( 7-14 Aug)

Timeless Towers Challenge (11-15 Aug)

Raging Giant Event (14- 21 Aug)

Raging Giant Challenge (LIVE – soon ending)

Knightly Armour (21-28 Aug)

Knightly Armour Challenge (25-29 Aug)

Go Sparky Go ( Till 4 September)

Go Sparky Go Challenge (1-5 September)
Have a look at upcoming events as well as challenges to make you chill throughout the month and progress better in the game. Comment on your strategy to win battles and review our analysis along with pointing out errors and upgrades. We always love our reader's thoughts.