In Clash of Clans, players with higher leagues get a superior reputation. In the majority of illustrations, this is one of the factors that can lead you to get swift promotions in the clan. Furthermore, Players placed in better leagues secure huge attack win bonuses and have better chances of getting accepted to the reputed clan as well.
On most occasions, Town Hall 8 marks the beginning of climbing the league to Champion. However, the lack of Archer Queen makes it a little difficult to do so. Nonetheless, Town Hall 9 introduces Archer Queen who is a game changer in trophy pushing. She is best suiting for assaulting Clan Castle troops and also to secure the remaining few percent of the damage. To that extent, here is the best trophy-pushing attack strategy for Town Hall 9.
5. GoHo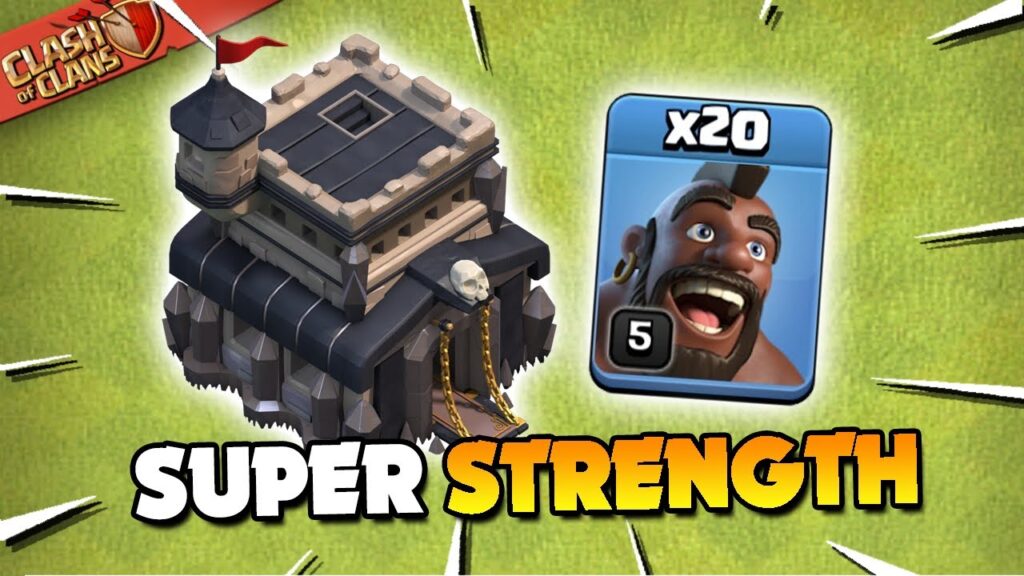 Army Composition:
Golem: 2
Hog Riders: 20
Wizards: 8
Heal Spell: 2
Rage Spell: 2
Jump Spell: 1
Poison Spell: 1
Clan Castle: P.E.K.K.A. + 1 Poison spell
To start with this attack, you need to create a funnel. For creating a funnel, use wizards. Once the funnel is done, deploy both the Golems and follow it with Archer Queen, Barbarian King, and the rest of the wizards. Use wall breakers to pave the way for the troops.
Wait till the wizards and archer queen and poison spell eliminates the clan castle (CC) troops. Once CC is lured, deploy half of the Hog Riders from one corner and the rest from another. Use Heal Spell and Rage Spell where you find necessary.
4. GoWi
Army Composition:
Wizards: 20
Golem: 4
Rage Spell: 1
Jump Spell: 1
Skeleton Spell: 1
Poison Spell: 1
Earthquake Spells: 4
Clan Castle:
In this attack, you will use Earthquake spells to eradicate walls from the base layout. 4 consecutive Earthquake spells can destroy a wall of any level. Try to use it at the center of the base.
Use Wizards and heroes to create a funnel, and deploy Golems. Make sure the deployment is widespread, and follow it with wizards. Use Poison spells on CC troops, and jump spells on the appropriate walls.
3. Witches
Army Composition:
Golem: 2 + 1 (CC)
Witches: 11
Wizards: 5
Wall Breakers: 4
Jump Spell: 2
Rage Spell: 1
Heal Spell: 1
Poison Spell: 1
There is no need to create a funnel. Start with the deployment of Golem, two at the corner and one at the center. Pursue these golems with Witches and once the funnel-like situations occur, drop Heroes at the center. The use of spells is very critical, so be sure to use them properly.
2. LavaLoon
Army Composition:
Balloons: 18
Lava Hounds: 3
Minions: 8
Rage Spells: 2
Haste Spells: 3
Clan Castle: Lava Hound + 1 Poison Spell
LavaLoon, one of the widespread used armies of all time, works perfectly on Town Hall 9 layouts. Use 2 ballons to extract CC troops from the enemy, and lure them out with poison spells and archer queen. Try to take down one air defense without using any air troops.
Now, deploy a lava hound and follow it with two balloons. Don't deploy everything at once. Use 1 lava hound for each air defense. Use Haste spells on balloons for swift eradication of defenses.
1. Queen Charge LavaLoon
Army Composition:
Balloons: 14
Lava Hound: 1
Healers: 4
Minions: 14
Rage Spells: 4
Haste Spells: 1
CC: Lava Hound + 1 poison spell
To start with the attack, it is important to choose the side from where two of the air defenses will be eliminated. Create a short funnel for the entry of the queen and healers. Use rage spell when Queen is attacked by the number of defenses.
Once the CC troops are lured, start dropping the balloons and lava hounds. Upon these deployments, assist balloons with all of our Minions.
---
Given are some of the best attack strategies that you can utilize for Trophy Pushing or for War Attacks. Be sure to spend time with the attack you choose to go with.