Builder Base, a village in Clash of Clans was suspected to be undergoing some serious changes lately. And the recent release of a video featuring the Battle Copter, a hero machine by Clash of Clans confirms it.
As the Builder Base 2.0 hasn't been through huge upgradation, the inclusion of Battle Copter stands out to be the most significant addition. In addition to the Battle Copter, Clash of Clans' builder base will be introducing abilities for each individual troop.
Battle Copter – A New Hero Machine in Builder Base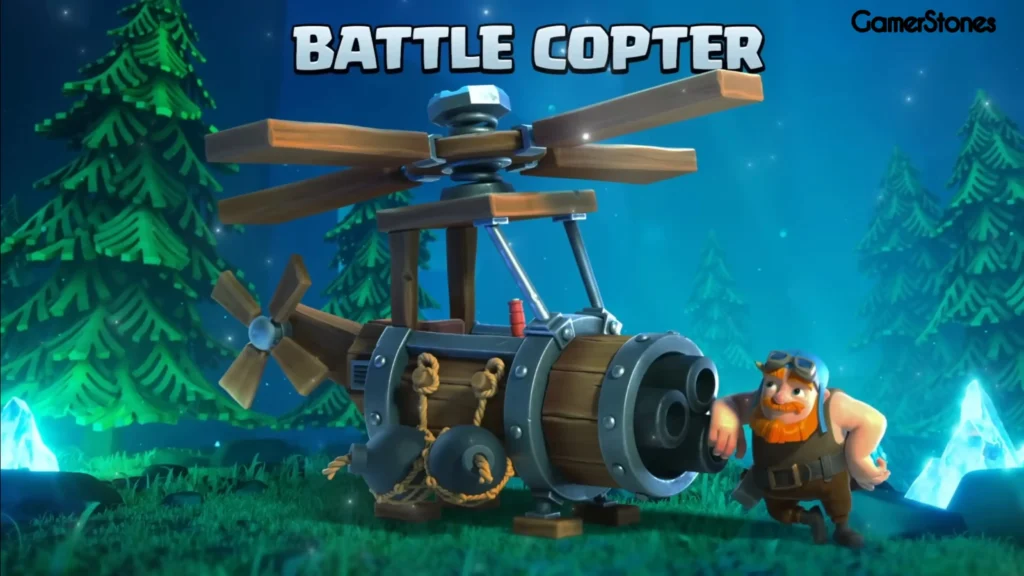 Battle Copter is a new Hero Machine that unlocks at Builder Hall 8, which attacks from a distance dealing damage to both air and ground targets. Battle Copter enables the players to rapidly attack buildings from a length and use a special ability; Bomb Rush.
Using the special ability, Bomb Rush, Battle Copter will deal huge bombing damage to the defenses and buildings beneath it.
Characteristics of Battle Copter
Unlocks at Builder Hall level 8
Favorite Target: Any
Damage Type: Single target
Targets: Ground & Air
Movement Speed: 14
How to unlock Battle Copter?
Battle Copter, for being now, can be considered one of the most exceptional heroes. Clashers will be waiting to use it on their battle floor.
Battle Copter, a hero machine, can be unlocked by having the Builder Hall upgrade to level 8.
What is the max level of Battle Copter?
As Battle Copter is currently under beta mode and is not publically accessible, we currently don't know much about it.
However, As per some sources, Battle Copter can be upgraded to level 30 so far. The same is seen in the latest video published by a renowned Clash of Clans content creator; Judo Sloth Gaming.