In the realm of Clash of Clans, attack strategies have played an imperative role, ranging from triumphing wars to securing high loots. Whether the players are at Town Hall 5 or Town Hall 13, choosing the best army combination is the core need.
When the players upgrade to Town Hall 13, this need becomes evident in defeating opponents with max base layouts. Even though this query might not be apparent to some players, believe it, getting your hands on an excellent attack strategy for Town Hall 13 will be a crux.
Check out this amazing attack strategy for Town Hall 13 in Clash of Clans.
Related: Best Clan Capital Army
Town Hall 13 Attack Strategy
The esteemed Town Hall 13 Attack Strategy will utilize Golem and Witches at their utmost potential. The army composition is:
Best TH13 Attack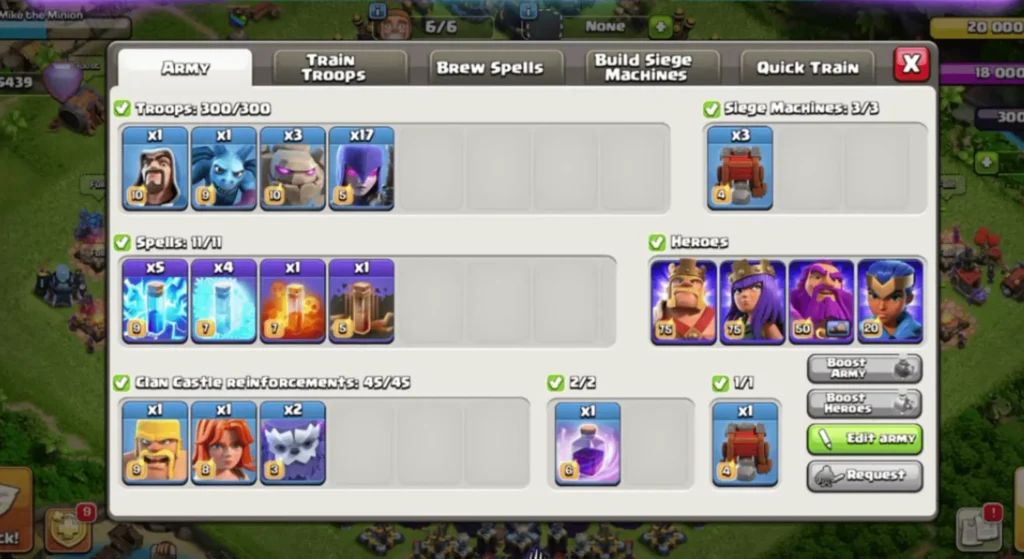 Wizard: 1

Minion: 1

Golem: 3

Witch: 17

Lighting Spells: 5

Freeze Spells: 4

Earthquake Spell: 1

Poison Spell: 1

Clan Castle: 1 Rage Spell + 2 Yeti
Before beginning the attack, the 5 lightning spells on the deck will take care of one Scattershot. Try to utilize these spells so that it affects the surrounding areas as well.
Related: Town Hall 11 Attack Strategies
Step 1 – Use Lightning Spells to Take Down Scattershot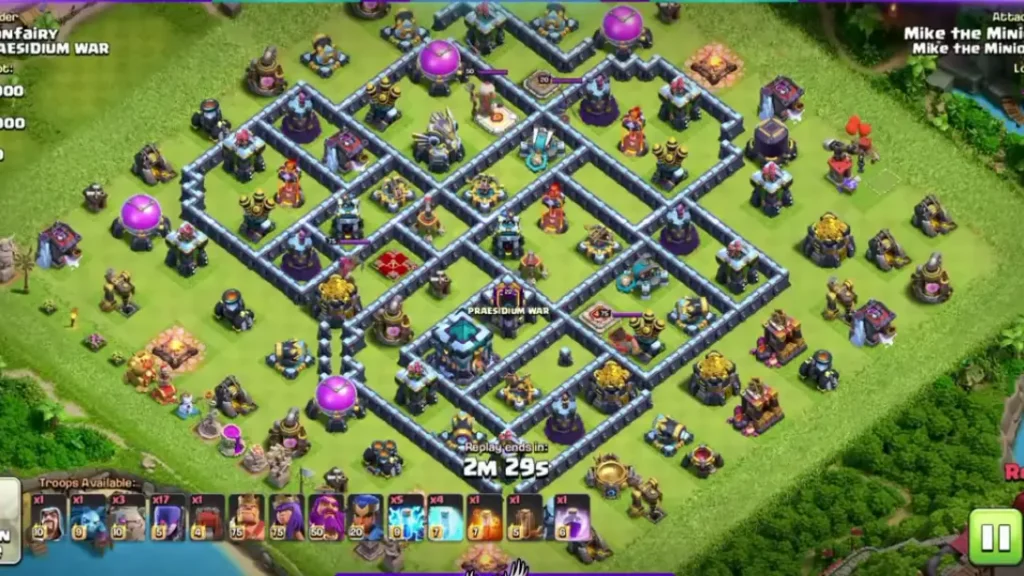 In this base layout, lightning spells can best be deployed in the middle of Scattershot and Inferno Tower. This will eradicate both of them. Use Earthquake Spell as well.
The reason to eliminate Scattershot is Witches. The Witch summons skeletons, and if Scattershot is live, it might take down all of these small creatures.
Step 2 – Troop Deployment
Now, the real attack begins with deployments of Golems from one side and following them with all the Witches. When Witches are placed, use Wall Wrecker, Barbarian King, Archer Queen, Royal Champion, and Grand Warden as well.
You can use Grand Warden's ability at the very beginning to give our troops an initial upper hand over the defense. But make sure that the range of Grand Warden covers almost the troops.
Step 3 – Using Spells
Just like the troop deployment, using the spells at the accurate spot is the heart of any attack. In this attack strategy, we will use a Poison spell either on enemy heroes or on enemy clan castle troops.
When it comes to the freeze spell utilization, it is recommended to use it on Inferno Tower or Eagle Artillery. This is because the Golem acts as a shield in taking damage from defense, and saving our witches. Therefore, it is crucial to save Golem. Inferno Tower and Eagle Artillery are the biggest enemies of Golem.
Try to save the rage spell, as it will be paramount against the most lethal defensive building, The Town Hall. Use the rage spell when the troops are in the sphere of Town Hall.
Read More: Best Clan Capital Army
---
The given attack strategy is very easy to utilize, however, it is recommended to spend time with it, to get familiar with ground realities. This attack strategy is formed by Sir Moose Gaming's YouTube Channel.