Roblox Toilet Tower Defence is an insane game. With Medic Update, Medic Cameraman has become ready to take part in battles defeating the enemy in the fastest possible way. Along with other units, Titan Cameraman is one known for the finest power and size striking bots with lasers disturbing the entire wave.
New: Military TYcoon J20
Titan Cameraman Toilet Tower Defence
Titan Cameraman is a masterpiece that has the highest Damage Per Second in the game. Similar to other robots, level 5 is the max level to which it can be upgraded in an entire battle.
With each level upgrading visual characters are modified leading to a scary but attractive look at the end of the last stage.
Guide: Best Jets Military Tycoon
How to get Titan Cameraman in Toilet Tower Defence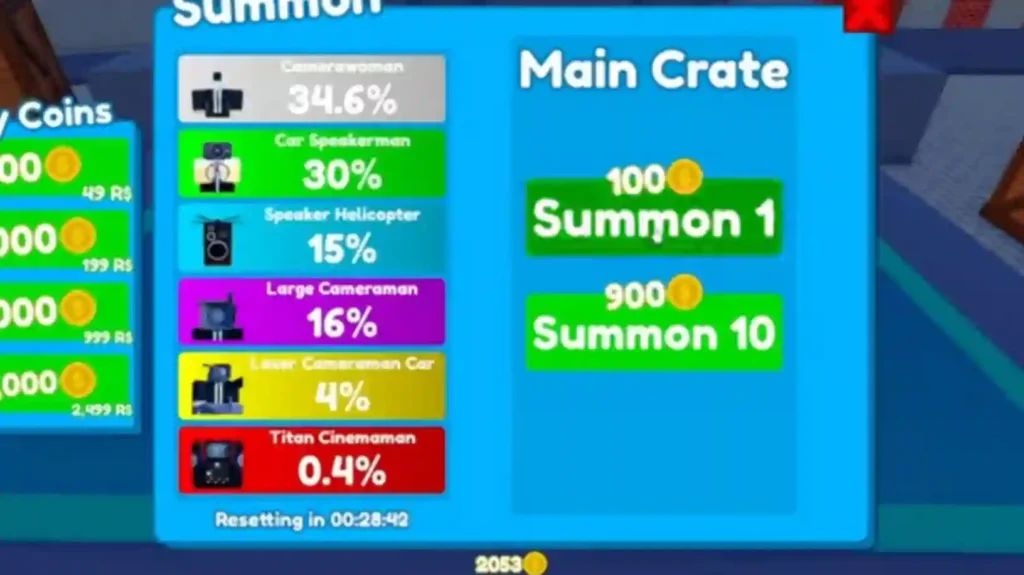 Titan Cameraman & Titan Camerawoman are Roblox-limited items that require Robux as resources other than in-game coins. At the price of 199 Robux, Titan Cameraman can easily be purchased from shops.
There is another secret way that lets you get Cameraman but the process is extremely time & money consuming so players choose the easiest option available to them.
Open Toilet Tower Defence in Roblox

To unlock Titan Man, go to Shop Menu

Select Titan Cameraman from the listed cards

Players need 199 Robux to purchase directly

Being exclusive, this is the only way to get Titan Cameraman in TTD

Or summon robots until Titan Man pops out

If you're lucky, it would take some hundred summons to finally get success
Summoning robots to upgrade them is an easy way to level up but costs a few bucks every time. So, fighting against waves is the only preferable option left to recover spent coins in the game.
What does Titan Cameraman do in Toilet Tower Defence?
The primary goal of the Titan Cameraman is to destroy the enemy during battles in the Toilet Tower Defence. Large and thick laser beams strike targets thereby destroying them completely in a single shot while heroes require multiple trials. At max level, DPS is unstoppable ensuring the safety of your tower.
Titan Cameraman contains an extreme robot theme that looks similar to the PEKKA of Clash of Clans. With each enchantment, brand-level skin is added. Be sure to use this powerful cameraman in the game which will chill your mood instantly.
Update: How to Become Fire Force
How much Titan Cameraman costs in Toilet Tower Defence?
Once the cameraman has been purchased, it is now unlocked and ready to take part in battle. With a cost of $750, Titan Cameraman & Camerawoman can be equipped and placed to stop large waves.
It is recommended to buy at the initial stages so more money can be saved for stronger robots such as Titan TV man
Below is the cost of Titan Man along with the increasing price for each new higher upgrade to level up. This machine is unstoppable at its peak max level but requires lots of effort to level to that spot.
Level 1: $750 (buying)

Level 2: $600 (upgrade)

Level 3: $1200

Level 4: $1500

Level 5: $3000 (max level)
Upgraded Titan Cameraman in Toilet Tower Defence
With recent updates, Normal Cameraman can be levelled up to a new stage called Upgraded Titan Cameraman. This new upgraded Titan Cameraman is an extended and highly effective version dealing more damage but takes less cooldown time in the arena.
How to get a New Upgraded Titan Cameraman in Toilet Tower Defence
Belonging to a mythic category, far stronger than normal or uncommon robots, the Upgraded Titan Cameraman in TTD is worth unlocking. Here is a trick that allows users to get a chance in summoning through Create which is usually rare
Open Toilet Tower Defence game

Open Summon section from the screen

The player needs to unlock Main Crate looking for an Upgraded Titan Cameraman

Summon 1x or 10x depending on your preference

Try summoning 10x crates as it increases the luck factor

After several trials, finally, Upgraded Titan Cameraman is unlocked