Roblox Arm Wrestle Simulator is getting fun day by day. With the latest update, Tickets have been introduced in the game. Tickets are a new type of currency allowing users to earn COGS which are eventually used to unlock pets and enchant them by use of the Blueprint tab.
Here is a guide on how to get tickets in an arm wrestling simulator along with the best tips & tricks to collect cogs fast in various ways.
Tickets Arm Wrestle Simulator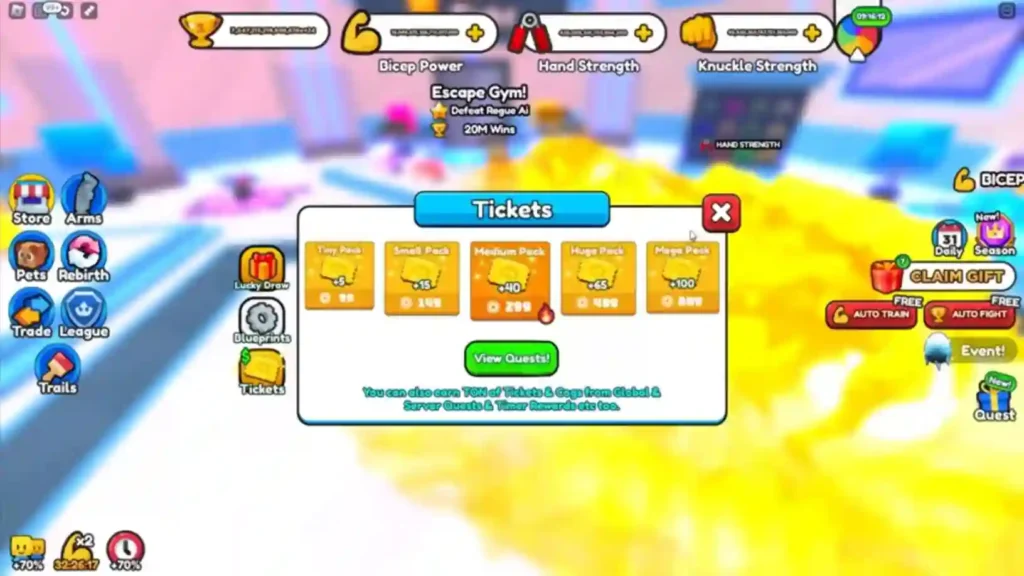 Before finding out ways to earn tickets, let's dive into the uses of tickets. Basically, tickets allow users to participate in Lucky Draw which rewards with +1 / +2 / + 4 so on Cogs.
Later on, these cogs will be used for different purposes such as increasing the multiplier, boosting strength and power, getting more births & super births, or simply making the best pet enchantments.
How to get Tickets in Arm Wrestle Simulator
There are multiple ways to earn a ticket but most of them let users claim a small quantity. Sometimes, log-in bonuses provide a handy amount of Cogs along with tickets but using our guide, players will learn how to complete quests in order to claim maximum tickets in less time.
Claim tickets from the Free Gift menu

College tickets on an hourly basis from the login menu

Spin Lucky Draw to get tickets & Cogs

Buy tickets using Robux

Complete Quests – Defeat Reaper

Complete quests every day to get tickets steadily

Use Arm Wrestling Simulator Codes to unlock a few tickets each time
How to get Cogs in Arm Wrestle Simulator
Cogs are a token collected by random drawing of Lucky Draw. At this time, tickets play an important role, they help to spin Lucky Draw more times leading to an increase in the chance to get Cogs each time.
From the list, Cogs are distributed in small quantities which will be later used to unlock pets via Arm Wrestle Simulator Blueprint features.
How to get & use Blueprint Fragments in Arm Wrestle Simulator
Cogs unlocked through a long process help players unlock some super rare pets such as Huge Pet easily. As an exchange method, Cogs are interchanged with Pets thus helping players unlock pets. For example, Green, Blue & Pink color Cogs have the ability to unlock different categories of pets.
Huge Diamond Pet ( 500 green cogs )

Huge Quest Dragon ( 250 blue cogs )

Huge Silent Dominus ( 100 pink cogs )
At present, Quest on Defeat Reaper Doc is live. The player needs to work hard and successfully defeat this boss 350 times to claim rewards. Rewards include 50 tickets + 1 Gold Key + 30 mins ( 2x wins) badges. Each day, a new task is assigned and needs to be completed to collect more tickets easily.